Headlamp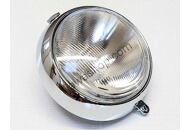 Are you seeking the perfect beacon for your JAWA motorcycle? Look no further than JAWASHOP. Our JAWA headlamp, merging vintage charm with state-of-the-art technology, ensures your ride is always brilliantly illuminated. Experience an unparalleled blend of time-honored style and cutting-edge functionality with our JAWA headlamps.
Headlamp spare parts
Every JAWA headlamp we offer is the epitome of durability and craftsmanship. They're not just spare parts, but the heart of your ride, casting a guiding light on your travels. Among the most popular headlamps in our range is the Headlamp complete (JAWA CZ 250 350 Kyvacka)
In addition to the headlamps themselves, we also offer:
You can find more headlamp spare parts directly in our electric equipment offer
Benefits of headlamps
Night navigation: the JAWA headlamps cut through the darkness and illuminate the road ahead. This ensures safer driving and allows you to spot and avoid potential hazards. Whether it's a winding country lane or a busy city street, a good headlamp will ensure you can see and be seen.
Safety Signal: Headlamps act as a signal to other road users, alerting them to your presence on the road. This increases safety and helps prevent accidents by making your vehicle visible, especially in low light conditions.
Other offerings
In addition to headlamps, our range of electrical equipment includes the following components:
If you're looking for a replacement part for an individual motorcycle, head over to Parts by Type.
Show more
Show less