Horn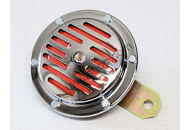 Experience a blend of tradition and modernity with our electric horns, tailored specifically for JAWA and CEZETA historic motorcycles. These electric bike horns amplify your machine's unique character while ensuring today's standard of road safety. Feel the nostalgia without sacrificing the present.
Why is JAWASHOP the go-to place for Horns?
Expertly Curated Selection: Each electric horn, electric bike horn, and electric horn cover undergoes rigorous quality checks for performance and authenticity before being added to our catalog.
Unmatched Quality: We prioritize top-tier materials and craftsmanship, ensuring that each product not only meets but exceeds industry standards for durability and performance.
Restored excellence
When it comes to electric horns and other electric equipment for your cherished JAWA and CEZETA motorcycles, JAWASHOP is more than just a retailer. We're a dedicated platform steeped in the rich history and passion of classic biking. Our decades of specialized experience and commitment to preserving this automotive heritage make us uniquely qualified to serve your needs.
Elevate your ride today
The road ahead is full of possibilities, and your classic JAWA or CEZETA deserves to journey it with an authentic voice. Amplify its unique character and ensure your safety by equipping it with an electric horn that honors both its legacy and modern standards. Don't miss out on making your beloved bike complete.
Choose JAWASHOP for unmatched quality and a commitment to preserving the classic biking experience. Act now to make your bike heard.
Show more
Show less