Bulbs 6V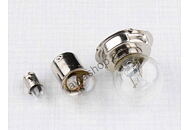 Dive into our exclusive collection of 6v led motorcycle bulbs, meticulously designed to fit and highlight the timeless beauty of JAWA and CEZETA motorcycles. Light up every journey, ensuring unparalleled brilliance and safety with our offer here at JAWASHOP
Bright Choices for Every Biker's Preference
Diverse Range: From 6v led motorcycle bulbs for a modern touch to classic lighting solutions, we cater to every biking enthusiast's taste.
Custom-Fit Design: Experience bulbs that fit effortlessly, designed especially for the unique structure of JAWA and CEZETA bikes.
Easy Installation: Our 6v motorcycle bulbs are user-friendly, ensuring you're back on the road in no time.
Illuminate Your JAWA & CEZETA Adventures with top quality Bulbs
Each motorcycle bulb is a testament to premium craftsmanship. Produced using cutting-edge technology and high-grade materials, our bulbs not only promise longevity but also ensure consistent, optimal luminosity for every ride.
Beyond just products, it's the experience that differentiates us. When you choose JAWASHOP, you're not merely purchasing a bulb; you're investing in a legacy of quality, a dedication to excellence, and a commitment to illuminating your JAWA or CEZETA
Exceptional Benefits Tailored for You
Designed for JAWA & CEZETA: Our 6v motorcycle bulbs are not just ordinary bulbs. They're crafted to enhance and complement the distinct aesthetics of JAWA and CEZETA.
Unmatched Durability: Each of our 6v 5w bulbs promises sustained luminosity, allowing for a dazzling display ride after ride.
Brighten Your Ride with JAWASHOP Today!
Don't dim the iconic allure of your JAWA or CEZETA. Elevate it with JAWASHOP's unparalleled collection of 6v motorcycle bulbs. Embark on luminous journeys, ensuring every ride is brighter and better.
In case you´re looking for different electric equipment we also offer:
Show more
Show less