Electric cables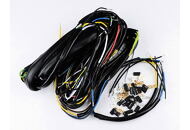 Embrace the golden era of biking with JAWASHOP's premium range of electro cables. Specifically tailored for the vintage JAWA and CEZETA motorcycles, our electric equipment ensures that every ride pulsates with authenticity and power.
Illuminate every moment
Cast a luminous glow on your cherished rides. With our superior light bulb socket and versatile light bulb socket adapters, your motorcycle's brilliance shines brighter. Looking for flexibility? Our light bulb socket extender ads light bulb socket with plug offer the customization your classic ride deserves.
Safety and Performance, Seamlessly Integrated
Preserve the timeless elegance of your vintage motorcycle with our premium blade fuse collection. Expertly designed for utmost safety, these fuses not only enhance the classic charm of JAWA and CEZETA motorcycles but also guarantee their peak performance.
Why is JAWASHOP the Vintage Enthusiast's First Choice?
Electro Excellence: Our electro cables capture the spirit and legacy of classic bikes, marrying vintage charm with modern efficiency.
Lighting Solutions for Days: From light bulb sockets to extenders and adapters, we've curated an all-encompassing range, ensuring your bike's illumination is unparalleled.
Trust in Every Turn: Every blade fuse, every cable, every socket is a testament to our commitment to quality and the vintage biking community.
Ready to Uplift Your Vintage Experience?
Discover JAWASHOP's unmatched selection of electro cables, light bulb sockets, and safety solutions. Ensure your JAWA and CEZETA motorcycles combine the best of yesteryears with today's functionality.
Other offerings
In addition to our top-tier electric cables , we provide a diverse range of electrical components tailored for your JAWA and CEZETA motorcycles including:
Should you need replacement components for a particular motorcycle, please explore our "Parts by Type" collection.
Show more
Show less