Electric switches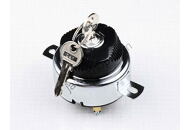 Owning a classic JAWA or CEZETA isn't just about embracing history—it's also about enjoying a timeless ride with modern convenience. Our specialized electric switches let you effortlessly control your brake light, blinker switch, and light switch, offering the modern-day functionality your historic motorcycle deserves.
Authenticity meets modern innovation
Classic Aesthetics: Our electric switches blend perfectly with the vintage style of your JAWA or CEZETA.
Brake Light Control: Manage your brake light effortlessly with quick-responsive switches for enhanced safety.
Blinker Switch Efficiency: Never struggle with signaling again, thanks to our reliable blinker switches.
Light Switch Mastery: Seamlessly control your bike's illumination with our advanced light switch options.
Why JAWASHOP reigns supreme for electric switches
When it comes to authentic and reliable electric switches, JAWASHOP stands unmatched. Why? Because we offer more than just parts; we deliver a legacy of excellence.
Expert Curation: Our switches are meticulously selected by connoisseurs who understand the nuances of vintage motorcycles and electric equipment.
Quality Assurance: Rigorous testing protocols ensure each product stands up to our stringent quality benchmarks.
Long-Lasting Durability: Our switches are engineered for extended lifespan, giving you peace of mind for years to come.
Seize the moment - Elevate your classic ride
There's never been a better time to enhance the functionality and safety of your treasured JAWA or CEZETA motorcycle. Our electric switches offer the perfect fusion of vintage charm and modern convenience. Act now to invest in components that deliver an unparalleled riding experience, from immediate brake light control to reliable blinker signaling.

Your piece of motorcycling history deserves nothing less than the best. Explore our curated selection today and redefine what it means to ride a classic on JAWASHOP.
Show more
Show less