Tail lamp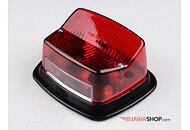 Elevate your classic JAWA or CEZETA motorcycle with our premium range of tail lamps and tail lamp bulbs. Combining vintage aesthetic with modern technology, our collection ensures maximum visibility without compromising on style. Discover why JAWASHOP is your go-to destination for quality, effectiveness, and durability in motorcycle tail lamps. Don't just ride—illuminate and conquer the road ahead with our electric equipment.
Recreate the original aura with tail lamps
Our tail lamps are designed to mimic the authentic look of classic JAWA and CEZETA motorcycles. Feel the nostalgia while also benefiting from modern lighting technology that ensures you're highly visible on the road.
Instead of replacing your classic bike with a modern equivalent, invest in high-quality tail lamp bulbs that breathe new life into your beloved machine. Our bulbs offer that rare combination of vintage design with enhanced luminosity.
Why is JAWASHOP the go-to place for tail lamps?
Quality: At JAWASHOP, we prioritize quality above all. Our tail lamps and tail lamp bulbs are rigorously tested to meet the highest industry standards.
Effectivity: Our products aren't just for show; they effectively enhance your visibility on the road. Ride assured, knowing that you're not compromising on safety.
Durability: Built to last, our tail lamps can weather the toughest conditions. The rugged construction means you invest once and enjoy prolonged benefits.
Revitalize your classic ride today
Don't let your vintage JAWA or CEZETA fade into the shadows of modern bikes. Illuminate its legendary design with tail lamps and tail lamp bulbs that pay homage to its history while ensuring its future. Click below to bring your classic machine back to life with tail lamps that truly complement its essence.
Show more
Show less