Bulbs 12V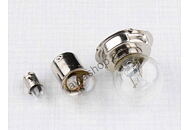 JAWASHOP introduces an unparalleled range of 12 volt light bulbs, meticulously crafted for the iconic JAWA & CEZETA motorcycles. With our 12v light bulbs, every ride shines brighter, ensuring unmatched safety and elegance on the road.
12V Light Bulbs: The Heart of Luminance
When it comes to delivering unmatched brilliance for your journeys, our 12v bulbs stand out, both in performance and longevity. Say goodbye to the frequent need for replacements and embrace the durability of our bulbs. Cherishing the legacy of JAWA & CEZETA means ensuring they're equipped with the best. And our 12v led bulbs promise to deliver just that.
12V LED Bulbs: Affordable Excellence and Quality
Quality lighting shouldn't break the bank. With JAWASHOP, you get the promise of premium 12v led light bulbs that fit perfectly within your budget. The main qualities of our 12V light bulbs are:
Sheer Clarity: Our 12v led bulbs redefine illumination for JAWA & CEZETA, making every mile clearer and safer.
Eco-Friendly Lighting: Shine bright without compromising on the planet with our 12v led light bulbs.
Elevated Elegance: Beyond illumination, these bulbs enhance the overall look of your motorcycle, ensuring each ride is an experience in itself.
Step into the Light with JAWA & CEZETA
With the promise of brilliance and reliability, isn't it time your JAWA & CEZETA experienced the best in 12 volt light bulbs? Dive into JAWASHOP's exclusive range and let every journey shine.
Apart from 12V light bulbs we also offer other electric equipment:
Show more
Show less