Relay and Regulators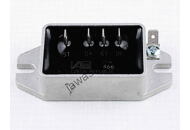 Welcome to JAWASHOP, where we specialize in providing unparalleled components for your timeless JAWA and CEZETA motorcycles. When nostalgia pairs with modern engineering, the result is our remarkable assortment of electric equipment like relays, electric regulators, electric fuel pump regulators, rectifiers, and ignition coils. Don't just maintain your vintage ride—optimize it.
What are relays and regulators used for?
Before diving into our specialized offerings, it's important to understand the vital roles these components play in your motorcycle's electrical system.
Relays act as electrical switches, controlling various functions such as lighting and ignition, allowing for efficient power management.
Electric regulators, on the other hand, maintain a consistent voltage supply to your bike's electrical components, ensuring stability and longevity.
Why is JAWASHOP the only choice for relay and regulators?
Undeniable authenticity: Choose components that pay homage to your bike's illustrious history.
Uncompromised quality: Rest easy knowing that every electric regulator, ignition coil, and other products pass stringent tests.
Lasting durability: Our products stand up to the rigors of time, ensuring your classic bike remains a reliable companion.
Optimal efficiency: Enjoy peak performance, fuel economy, and minimal waste, thanks to our engineered solutions.
A classic experience awaits: Transform your vintage bike today
Your JAWA or CEZETA is not merely an old motorcycle; it's a piece of history deserving of the finest components. With JAWASHOP, you not only maintain but elevate your classic ride, ensuring it remains a functioning relic of a bygone era, replete with all the modern advantages. Transform your bike with our selection of relays and regulators right now!
Show more
Show less