Blinker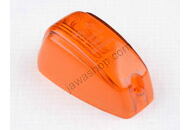 At JAWASHOP, we've curated the ideal motorcycle blinker kit for your classic JAWA or CEZETA motorcycle. Our blinker not only stands as a beacon of safety on the road but also elevates the authentic retro look of your pride and joy.
Retro safety with modern appeal
Our blinker carts are more than just replacement parts. This stylish electric equipment rejuvenates the appearance of your vintage JAWA or CEZETA motorcycle. Signal your intentions on the road while resonating with the golden era of motorbiking.
Durability meets Quality
Discover blinkers crafted from materials that stand the test of time, designed specifically for historic motorcycles. Weather-resistant and built to last, they are the very definition of quality.
Some of the best-selling blinkers in our range are:
All-in-One motorcycle blinker kit
Regardless of your model, our motorcycle blinker relay and kit seamlessly integrate with JAWA and CEZETA bikes. Designed for a perfect fit and hassle-free installation, making your restoration process smoother.
Experience the Blend of Past and Present!
Navigate our extensive range at JAWASHOP and transform your vintage motorcycle with the best in blinker carts and kits. Embark on a journey of restoration today and reignite the spirit of your classic ride!
Other offerings
Beyond our premium blinkers, we also offer an assortment of electric equipment for your JAWA and CEZETA motorcycles, including:
In case you are looking for replacement parts for a specific motorcycle head over to our Parts by Type range
Show more
Show less