Bowden cables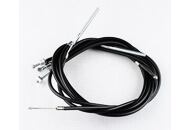 Welcome to JAWASHOP, the go-to online store for premium JAWA and CEZETA motorcycle parts. Dive into our extensive selection of top-notch Bowden cables, meticulously designed to amplify your motorcycle's performance. These unsung heroes of your ride transmit physical force with swift precision, granting you unparalleled control on every curve and straightaway.
Bowden cables: Quality spare parts
Recognizing the distinct nature of every motorcycle and rider, JAWASHOP prides itself on offering a comprehensive selection of Bowden cables. These are expertly tailored for a variety of JAWA and CEZETA models. Our inventory includes
Each piece in our store aligns with our unwavering commitment to quality and reliability, making JAWASHOP the preferred choice of vintage motorcycle aficionados.
How do Bowden cables work?
Bowden cables are a pivotal element in a motorcycle, assigned with the crucial task of transmitting mechanical force sans compression. This transmission is achieved through a braided steel wire cable encased within a lined outer sheath. As the inner cable moves fluidly inside this casing, it effectively performs an array of mechanical functions.
Selection of spare parts for bowden cables
When choosing the right bowden cables, it's always important to know what type of motorcycle you're choosing for and in what dimensions. We understand that every motorcycle is unique, which is why we offer an extensive selection of bowden cables designed for different models of JAWA and CEZETA motorcycles. Whether you need a throttle cable, brake cable, or clutch cable, our collection will ensure you find the right part to bring your motorcycle to its optimum performance level.
If you're looking for other replacement parts, head to our Parts by Category range.
Show more
Show less