Bowden cables accesories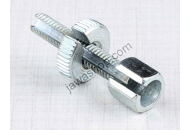 For the aficionado of JAWA and CEZETA motorcycles, the allure of the highway is unmatched. Feel the resurgence of power, the legendary symbiosis between rider and vintage masterpiece. What's at the heart of this classic romance? The renowned bowden cables. With JAWASHOP, we're not just preserving that connection - we're amplifying it with our bowden cables accessories
Ride the Timeless wave with Bowden cables and accessories for them
For the dedicated lovers of JAWA and CEZETA, modern shortcuts don't cut it. With our selection of bowden cables and accessories, we promise nothing short of genuine authenticity. Dive into our curated selection of top-quality Bowden cable accessories, each tailored for specific models. The best selling bowden cables accessories in our offer are:
You can find more accessories directly in our offer.
Elevate each vintage voyage
Safety Through Authenticity: Cruise with assurance, knowing that our bowden clutch cables and accessories seamlessly intertwine with your motorcycle's historic DNA, offering both nostalgic trips and modern safety.
Classic Care Made Easy: With our bowden cables and accessories, you're not just preserving a motorcycle; you're upholding a legacy. Simplified maintenance meets vintage charm, ensuring a smooth journey down memory lane.
Other offerings
Beyond bowden cables accessories, JAWASHOP's extensive 'Bowden cables collection' encompasses full Bowden cable sets and a variety of Bowden cables. Explore our assortment to secure all essentials for peak motorcycle control system performance and upkeep."
If you are looking for other accessories and spare parts, take a look at our Parts by category offer
Show more
Show less