Bowden cables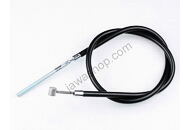 Unlock the true potential of your motorcycle with our top-tier Bowden control cables. At JAWASHOP, we've dedicated ourselves to sourcing and providing the best bowden cables, especially designed for JAWA and CEZETA motorcycles.
Unleash Superior Control with Our Premium Bowden Control Cables
Every bowden cable is crafted to ensure unmatched responsiveness, elevating your biking experience to a whole new level. Moreover, the emphasis on safety is paramount. For your JAWA and CEZETA motorcycles, these cables are essential, ensuring enhanced control for a safer and smoother ride every time.
The best selling bowden cables in our offer are:
Why Does JAWASHOP Lead in Bowden Cables?
Unparalleled Precision: At JAWASHOP, our industry-leading expertise as bowden cables suppliers shines through. We specialize in providing cables tailored specifically for
motorcycles, ensuring unparalleled precision and unmatched responsiveness.
Safety Through Control: Ever wondered what are bowden cables used for? They're pivotal for enhanced control, ensuring maximum safety with every ride.
Other bowden cable offerings
In addition to the individual bowden cables, our comprehensive "Bowden cables offer" at JAWASHOP also features complete Bowden cable sets and a range of Bowden cables accessories. Dive into our selection to find everything you need to ensure optimal performance and maintenance for your motorcycle's control systems.
If you are looking for bowden cables or other parts for a specific motorcycle, visit our Parts by type offer.
Show more
Show less