Bowden cable set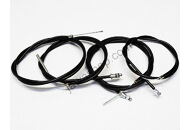 Step into the world of JAWASHOP, where our Bowden cable sets, precisely crafted for JAWA and CEZETA motorcycles, await to redefine your riding adventure. As esteemed Bowden cables suppliers, we commit to delivering unmatched quality and superior performance.
Benefits That Transform Your Ride with Our Bowden Cable Sets
Safety Amplified: Traverse with unparalleled confidence, powered by the prompt responsiveness of our Bowden cables.
Cost-Effective Bundling: Our sets come with multiple Bowden cables, offering you exceptional value and the ease of a one-time purchase.
Diverse Offerings: Beyond our sets, explore individual Bowden cables and a comprehensive range of Bowden cables accessories to customize your ride.
Why JAWASHOP's Bowden Cables Are a Class Apart
At JAWASHOP, our Bowden cables aren't just any cables. Our exclusive Bowden cable Jawa range is meticulously tailored to ensure an impeccable fit, promising unmatched compatibility and stellar performance for every JAWA and CEZETA motorcycle.
The enduring performance these cables offer, highlighted by sharp throttle response and precise clutch accuracy, sets them apart in the market. As top-tier Bowden cables suppliers, our commitment to quality is evident in every product. Each Bowden cable in our collection is built with excellence in mind, designed to make sure your motorcycle remains in peak condition
Other offerings
Beyond bowden cable sets, JAWASHOP's extensive "Bowden cables offer" encompasses individual bowden cables and an array of Bowden cables accessories. Explore our curated collection to secure all essentials for impeccable performance and care of your motorcycle's control mechanisms.

If you are looking for spare parts for a particular JAWA or CEZETA motorcycle, head to our Parts by Category
Show more
Show less