Gearbox and Clutch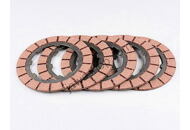 In search of premium gearbox and clutch spare parts for your motorcycle? Our JAWASHOP offers a wide range of such parts, ideal for historical JAWA motorcycles as well as other brands like CEZETA. Dive into our selection to find the perfect fit for your motorcycle's gearbox and clutch.
Gearbox and clutch parts
The motorcycle gearbox and clutch are key components in the shifting system of a motorcycle. If you do not have a quality gearbox and clutch your motorcycle will suffer and the riding experience will not be complete. When choosing a gearbox or clutch part, it is important to know exactly what part you need and if it fits your type of motorcycle. Everything you need to select the right part can be found in our online shop.
Spare parts for gearbox and clutch parts
Our range of spare parts for gearbox and clutches includes:
All spare parts in our range are high quality, reliable and a clear guarantee of satisfaction.
If you are looking for other spare parts, you will find them in our Parts by Category offer.
You can find spare parts for a specific type of motorcycle in our Parts by Type range
Show more
Show less