Engine and Crankcase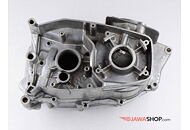 In need of engine spare parts for your vintage motorcycle? Explore our JAWASHOP for the highest quality, reliable engine and crankcase parts. We pride ourselves in supplying only top-grade, dependable spare parts to keep your classic JAWA and CEZETA motorcycle running smoothly.
Jawa engine parts
We offer many quality engine parts. Engines are the most important and most complex part of all motorcycles. Therefore, it is important to know what kind of engine you have and exactly what part you want to replace. Everything you need to choose the right part can be found at our e-shop
Jawa crankcases
Crankcases are part of the internal combustion engine and are used to protect and retain the oil. Spare parts for crankcases are hard to find and are just as important as spare parts for the engine itself. We offer the highest quality and most reliable parts for crankcases.
Selection of spare parts for engines and crankcases
Our range of spare parts for engines and crankcases includes:
If you are looking for other spare parts please visit our Parts by Category
If you are looking for spare parts for a specific motorcycle, we recommend our Parts by Type offer
Show more
Show less