Cylinder Barrel and Head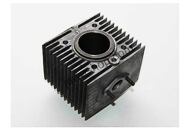 Elevate your classic JAWA or CEZETA motorcycle with JAWASHOP's premium range of cylinder barrel, hydraulic cylinder barrel, and cylinder barrel lock components. Designed to boost engine performance, optimize heat management, and secure your vintage ride, our tailor-made solutions ensure you experience the road like never before. Rediscover the untapped potential of your timeless two-wheeler today!
Why choose JAWASHOP for your cylinder barrel and hydraulic cylinder barrel needs?
Unrivaled Quality: Premium materials ensure long-lasting durability and peak performance.
Comprehensive Solutions: From cylinder barrel upgrades to hydraulic cylinder barrel and security locks, we have all your needs covered.
High-Efficiency Hydraulic Cylinder Barrel: Advanced thermal management for uninterrupted rides.
Robust Cylinder Barrel Lock: Industry-leading security that integrates seamlessly with your vintage design.
Why is the cylinder barrel crucial for your vintage motorcycle?
Understanding the importance of a high-quality cylinder barrel cannot be overstated, especially for classic motorcycles like JAWA and CEZETA where every component plays a critical role. A cylinder barrel is not just another part; it's the heart of your engine's performance and longevity.
Ready to unleash the full potential of your classic? Act now!
Your JAWA or CEZETA is not just a motorcycle; it's a timeless piece of history that deserves the best. With our premium range of cylinder barrel, hydraulic cylinder barrel, and cylinder barrel lock solutions, you're not merely upgrading parts—you're enhancing an experience. Don't settle for less when you can have peak performance, maximum security, and long-lasting durability.
Show more
Show less