Jawa 250 type 559 Panelka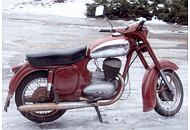 In search of dependable spare parts for your Jawa CZ 250 motorcycle, also known as the Jawa 250 Breeze? You've arrived at the right destination. At JAWASHOP, we provide a broad selection of spare parts for JAWA and CEZETA motorcycles, including those specifically designed for the Jawa 250 type 559 Panelka, a member of the Jawa 250-350 Panelka 559-360 category. We're confident you'll find just what your Jawa 250 Breeze needs right here.
Jawa CZ 250 - Technical parameters
The Jawa 250 breeze boasts a number of technical parameters that set this motorcycle apart from other motorcycles on the market. It is a motorcycle with a two-stroke, air-cooled single cylinder engine with a displacement of 249 cm³. Engine bore is 65 mm, stroke is 75 mm and compression ratio is 7.7:1. The tank capacity is 13.5l and the engine of the Jawa 250 CZ achieves a power of up to 14 hp..
Jawa 250 spare parts offer
Our e-shop offers a wide range of spare parts for this Jawa breeze model, including:
Engine and crankcase
Gearbox and clutch
Fuel system
Secondary chain drive
Bowden cables
Exhaust system
Frame and accessories
Steering and handlebars
Mudguards and covers
Seats and covers
Wheels and brakes
Electrical equipment
Books
Other accessories
JAWASHOP focuses on the quality and reliability of its spare parts. Thanks to this you can be sure that the spare parts you purchase will be fully compatible with your Jawa 250 type 559 Panelka motorcycle
Selection of spare parts for Jawa CZ 250
When selecting spare parts for your Jawa 250 type 559 Panelka motorcycle, it is important to know exactly what part you need. This may include knowing the model and year of manufacture of your motorcycle, what type of part you need (for example, if it is an engine part, gearbox part, fuel system part, etc.), and specific information about the part such as its size or shape
For full information on parts, including their specifications, please see the "Parts by Category" menu.
Show more
Show less