Fuel system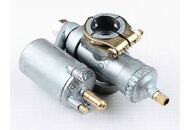 If you are the proud owner of a vintage JAWA or CEZETA motorcycle, you know how crucial it is to preserve its authenticity and performance. At JAWASHOP, we share your passion for these classic beauties and offer a wide range of fuel system replacement parts to keep your motorcycle running like a dream.
Discover the Best Selection of JAWA Fuel System Spare Parts:
At JAWASHOP, we are captivated by the allure of vintage motorcycles, and our utmost goal is to deliver unparalleled fuel system replacement parts to ensure your cherished bikes run flawlessly. Our comprehensive selection of replacement parts encompasses:
Jawa fuel tanks: Explore our exclusive collection of authentic JAWA fuel tanks for sale, carefully crafted to maintain the classic look while ensuring optimal fuel storage and delivery. Upgrade your motorcycle's fuel system with these high quality tanks and relive the golden era of motorcycles.
Carburetors: Find the perfect upgrade for your historical motorcycle with our premium JAWA carburetors. These expertly tuned carburetors guarantee improved throttle response and higher performance, ensuring a smooth and powerful ride every time.
Intake manifold: Enhance the air-fuel mixture distribution in your JAWA or CEZETA motorcycle with our top-of-the-line intake manifolds. Unlock the true potential of your engine and maximize performance and torque output.
Explore Our Extensive Collection of JAWA Fuel System Spare Parts:
Don't let your historical JAWA or CEZETA motorcycle lose its charm and performance due to worn-out fuel system components. Upgrade your bike with our top-notch JAWA fuel tanks, carburetors, and air filters, and experience the joy of riding your vintage two-wheeler like never before.
Selection of spare parts
When selecting fuel system spare parts, it is always very important to know what part you are selecting and for what type of JAWA or CEZETA motorcycle. But you don't have to worry. At JAWASHOP we will make sure that you have no problems when choosing spare parts. Whether you're an avid collector or a dedicated rider, we'll ensure a hassle-free purchase and guide you to the best-fitting components that will enhance the performance of your motorcycle.
If you're looking for replacement parts for a specific motorcycle, head among our Parts by Type selection.
Show more
Show less