Fuel tank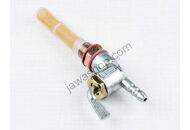 The motorcycle fuel tank is the beating heart of your vintage JAWA or CEZETA, a crucial component that stores and delivers fuel to the engine, empowering every ride into the realms of endless adventures. Its essence goes beyond being a mere reservoir; it's a testament to the spirit of freedom that every biker cherishes. JAWASHOP, devoted to the preservation and celebration of historical motorcycles, presents a meticulously curated range of motorcycle fuel tanks.
Why opt for JAWASHOP's fuel tanks?
Historical authenticity: Dive into a nostalgic journey with fuel tanks mirroring the original design.
Premium construction: Experience durability and a seamless fit with high-grade materials.
Motorcycle fuel tank sealer: Prolong your tank's lifespan with our top-tier motorcycle fuel tank sealer, ensuring a leak-free ride.
Pair fuel tank with carburetors and intakes from our offer to ensure your motorcycle fuel system is reliable.
Unyielding quality: A tribute to timeless craftsmanship
Delve into the epitome of quality with JAWASHOP's motorcycle fuel tanks. The artistry and craftsmanship poured into each tank echo the dedication to preserving the historical essence while ensuring modern-day functionality and reliability.
Impeccable finish: The flawless finish resists wear and tear, showcasing a long-lasting brilliance that complements your vintage ride.
Precise engineering: Enjoy a harmonious blend of form and function with precise engineering ensuring balanced weight distribution and optimal performance.
Robust construction: Relish the robust construction that promises a leak-free journey, with the added layer of protection from our motorcycle fuel tank sealer.
Unlock The Era, Unleash The Adventure
The road is beckoning, and history is ready to be revisited. Equip your vintage motorcycle with a reliable, high-quality fuel tank, and let the legacy continue with every twist of the throttle. Your cherished ride deserves nothing but the best, and we are here to deliver precisely that. Explore now, as the trails of history await your tread.
Show more
Show less