Spare parts catalogs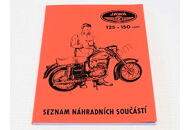 In the heart of classic motorcycling, finding the right spare parts catalogs often poses a challenge. JAWASHOP proudly presents our expansive collection tailored specifically for the iconic JAWA, CEZETA and also VELOREX motorcycles. If it's the authentic Jawa catalog experience you're after, search no further.
Why Our Jawa Catalog Stands Out
Detail-Driven: Each Jawa catalog dives into the intricacies of every spare part, offering clarity and ensuring you capture the true essence of your classic ride.
Comprehensive Range: Our rich variety of spare parts catalogs caters to both age-old classics and newer models, ensuring every JAWA, CEZETA and VELOREX enthusiast finds what they need.
Authenticity at its Best: Our Jawa catalog speaks volumes of our commitment to genuineness, aiding you in maintaining the legacy of your cherished motorcycle.
The Ultimate Spare Parts Catalogs Experience
Dive deep into the world of classic motorcycling history. With our extensive spare parts catalogs here at JAWASHOP, you're equipped with unparalleled knowledge, ensuring your restoration journey is both enlightening and fulfilling. Our exclusive focus on the Jawa catalog ensures every detail, every nuance, is captured with precision.
Discover Authentic Restoration
Let your passion for classic motorcycling shine and dive into restoration excellence. Explore the depths of our spare parts catalogs today, and let your JAWA, CEZETA or VELOREX motorcycle resonate with its glorious past.
In addition to our comprehensive Spare parts catalogs, our "Books" collection boasts a diverse range of offerings like Calendars and Service manuals.
Show more
Show less