Calendars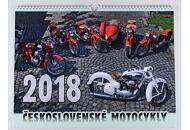 Dive deep into the world of JAWA and CEZETA with our exclusive motorcycle calendar. Every page resonates with the legendary aura of these iconic bikes, making it the perfect history calendar for aficionados.
Embark on scenic journeys
With each month on our motorcycle calendar, set forth on the world's most scenic routes, each perfectly framed with a JAWA or CEZETA bike. A visual treat that inspires adventure every time.
Our calendar offer consists of:
Why Every Biking Enthusiast Needs a JAWASHOP Motorcycle Calendar
Daily Inspiration from Calendar Jawa Images: Be stirred by the iconic imagery of JAWA and CEZETA, ensuring every day starts with a vroom!
The Ultimate Gift: Searching for the perfect gift? Our history calendar marries motorcycling nostalgia with elegance, making it a prized possession for any biking lover.
Elevate Every Space: Beyond its functional use, the JAWASHOP motorcycle calendar stands as a testament to classic design and taste, seamlessly fitting into homes, workshops, or offices.
Experience JAWA & CEZETA Daily!
For many, a motorcycle isn't just a mode of transport; it's an emotion. When it's JAWA or CEZETA, it's a sentiment etched in history. Our motorcycle calendar is not just about dates; it's about cherishing and celebrating that sentiment.
In addition to calendars, you will also find Spare parts catalogs and Service manuals in our "Books" offer
Show more
Show less