Service manuals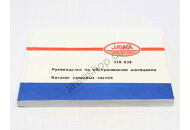 In the vast landscape of motorcycle maintenance, service manuals are the compass every rider seeks. At JAWASHOP, we specialize in providing industry-leading service manuals exclusively for JAWA and CEZETA motorcycles, ensuring you're always equipped for the journey ahead.
Why JAWASHOP's Service Manuals?
Unwavering Quality: Revered by JAWA and CEZETA enthusiasts for the precision and depth of our service manuals.
Latest Insights: Our service manuals are continuously updated, ensuring you're never left behind.
Seamless Navigation: Structured layouts in our service manuals guarantee swift referencing and solutions.
Redefining Motorcycle Journeys with Service Manuals
Every ride tells a story. And with JAWASHOP's service manuals, you're in control of crafting that narrative. Be it troubleshooting a hiccup or enhancing performance; our service manuals are your trusty sidekick. The main benefits of our service manuals are:
Precision in Every Page: Our service manuals offer meticulous details for every repair and maintenance task.
Illustrated Guidance: Our service manuals come enriched with visuals, ensuring clarity at every step.
Empower Your Rides with JAWASHOP Service Manuals!
Step into a world where service manuals redefine motorcycle experiences. Browse our comprehensive collection and harness the full potential of your bike. Opt for JAWASHOP's service manuals today and become the master of your journey!
Besides Service manuals our "Books" collections also includes Calendars and Spare parts catalogs.
Show more
Show less
- 13 %