Books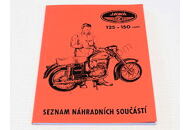 Explore our wide range of books - Jawa Spare Parts Catalogs, Service Manuals, and Calendars Jawa here at JAWASHOP. These offerings go beyond mere words on paper, immersing you in a treasure trove of knowledge to enhance your daily life. With these essential resources at your fingertips, you'll embark on a journey of convenience and productivity
Stay Ahead with JAWA Spare Parts Catalogs
Revolutionize the way you handle repairs and maintenance with our comprehensive Spare Parts Catalogs. No more frustration when searching for the right components - our catalogs enable easy identification and ordering of spare parts for JAWA and CEZETA motorcycles. Keep your equipment running smoothly, minimize downtime, and maximize productivity.
Service Manuals for Unparalleled Expertise
Experience the unique expertise of our Service Manuals. Become your own mechanic, engineer, or technician with step-by-step instructions for maintenance, repairs, and troubleshooting. Say goodbye to costly service calls or delays - our Service Manuals equip you with the knowledge to tackle any challenge.
Organize your life with Calendars Jawa
With our calendars, seize the moment and ensure every day counts. Our calendars are more than just tools for scheduling; they serve as gateways to efficient time management and planning. Whether for personal or professional use, stay organized, never miss an important event, and stay on top of your game!
At JAWASHOP, we offer stylish calendars featuring motifs of JAWA and CEZETA motorcycles
Ready to Dive In?
Explore our Books - Spare Parts Catalogs, Service Manuals, and Calendars collection now and take the first step toward a more informed and efficient lifestyle. Embrace the power of knowledge and make every moment count. Don't miss out on the opportunities that await you!
Show more
Show less