Tools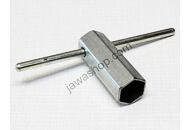 Rediscover the joy of classic motorcycling with our JAWASHOP collection, intentionally designed for historical CEZETA and JAWA motorcycles. With our unique selection, immerse yourself in nostalgia and bring your historic motorcycle back to its glory days. Our range of Jawa Tools extends beyond a mere trip down memory lane; they provide you with the means to truly experience the golden age of motorcycles.
Experience the blend of authenticity and high performance with our Jawa tools
Rekindle the spirit of your historic motorcycle with our JAWA Tools, designed to provide:
Precise engineering: Tailored to the unique specifications of historical CEZETA and JAWA motorcycles. Our tools ensure accurate maintenance and repairs that honor the original glory of the motorcycles
Durability: Our tools are manufactured to be enduring, they are resistant to wear and tear and guarantee reliable service for many years.
Your essential Jawa tool collection
Begin your journey to renovating a classic motorcycle with our collection of essential tools, specifically designed for your cherished CEZETA and JAWA motorcycles. Here are some of the essential tools from our offer:
Dive into our extensive collection of Jawa Tools today and embark on your exciting renovation journey. With the right tools at your disposal, your historic CEZETA or JAWA motorcycle will soon be running at full throttle.
Explore our additional offerings
Jawa Tools form an integral part of our extensive array of Accessories and other offer. In addition to these specialized tools, our selection also includes a variety of accessories for your JAWA and CEZETA motorcycles, such as:
Show more
Show less