Sealings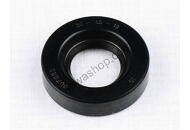 Get to the epicenter of peak performance with JAWASHOP! Your search for a premium engine gasket customized for JAWA and CEZETA motorcycles ends here. Whether it's a quest for increased performance, a leg up on the rest or the confidence that high quality products instill, JAWASHOP is your ultimate destination.
Engine sealing is one of our comprehensive range of accessories and other
Sealings spare parts
Our engine seals are not just parts, they are performance enhancers. Precision engineered, designed with durability in mind and tested for reliability, these seals are the heart of your motorcycle and will make your engine a great tool for spirited riding.
We offer a variety of engine gasket parts, but not only that. We also offer gaskets for:
The most popular and practical product for engine sealing is Engine gasket set (6 pcs) (Jawa 350 638 639 640)
Benefits of engine sealing
Prevent leakage: Engine gaskets are primarily used to prevent engine fluids from leaking. They form a seal between various parts of the engine, preventing oil, coolant and other fluids from leaking and preventing unwanted substances from entering.
Maintain pressure: For example, head gaskets ensure proper compression in the combustion chamber, which is critical to engine performance.
Other offerings
In addition to gaskets, you will find the following items in our accessories and other offerings.
If you are looking for spare parts for your individual JAWA or CEZETA motorcycle, please visit our Parts by Type
Show more
Show less