Bearings and Bushings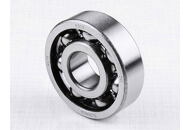 Unlock the full power and agility of your JAWA or CEZETA motorcycle with our exclusive range of high-performance bearings and bushings, found only at JAWASHOP. Crafted with precision engineering, these top-quality components are designed to optimize your motorcycle's performance, ensuring unmatched results.
Bearings and bushing spare parts offer
Whether you're a seasoned rider or an avid enthusiast, our JAWA and CEZETA bearings and bushings will take your motorcycle riding experience to the next level. Get ready to tackle the roads with confidence and precision thanks to JAWASHOP.
Bearings - When it comes to bearings we specialize mainly in engines, such as Ball bearing of engine set set - 4pcs (Jawa 350 638 639 640)).
Bushings - Bushings we offer for:
Benefits of bearings and bushings
Reduction of friction: bearings and bushings are designed to minimize friction between moving parts. The use of low friction materials and precision engineering ensures smooth and efficient movement. Reducing friction leads to reduced energy consumption, reduced wear and ultimately increased operating efficiency.
Increased durability: bearings and bushings are designed to withstand harsh conditions. They are constructed from high quality materials such as stainless steel or bronze that exhibit excellent resistance to corrosion, heat and abrasion. This increased durability ensures long-term performance, reduces the need for frequent replacements and saves you valuable time and money.
Other offerings
In addition to bearings and bushings, you will find the following items in our comprehensive range of accessories and other:
Models 1:18
Spark plugs
Sealings
Stickers
Tools
Textile
Key ringsI
If you are looking for spare parts for a specific type of JAWA or CEZETA motorcycle, please visit our Parts by Type offer.
Show more
Show less