Accessories and Other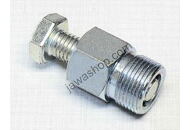 Discover an expansive range of Jawa accessories at our JAWASHOP. From vintage-inspired key rings to high-quality handlebars and precise speedometers, we offer accessories designed specifically for JAWA, CEZETA and other historical motorcycles. Enhance your classic motorcycle experience with our diverse product offerings.
Accessories and other parts
Accessories like spark plugs or bearings and bushes can always come in handy and it's important not to underestimate their purpose. You never know when you will need these accessories. Accessories such as stickers or model bikes can be a nice gift to enhance your bike or to display on a shelf.
Range of accessories
In our range of other accessories you will find:
All accessories in this range are offered in the highest quality, no need to worry, JAWASHOP is a guarantee of customer satisfaction
If you are looking for various spare parts for your motorcycle we recommend the Parts by Category offer
If you are looking for a spare part for a specific type of motorcycle, you will find them in the Parts by Type offer
Show more
Show less