Stickers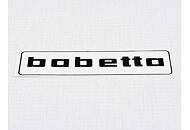 Discover a world of unlimited possibilities for self-expression with our exclusive JAWA sticker collection. Highlight your personal style and make a bold statement that will catch the eye wherever you go. Whether you want to add style to your motorcycle or enhance your favorite things, JAWASHOP offers high-quality stickers that allow you to express your individuality in the most compelling way.
Offer of Jawa stickers
Let your imagination run wild as you browse our diverse range of JAWA stickers. With a wide range of designs, patterns and themes, you'll find the perfect match for your unique tastes and preferences.
In our offer you will find stickers with both JAWA and CEZETA brand logos at a great price. In addition to stickers with logos, we also offer other stickers with different patterns and designs. There is something for everyone in our wide range of stickers.
The most popular stickers in our offer are:
We also offer sticker sets where you can find multiple stickers together. We can recommend you Fuel tank sticker set 160x30mm (Jawa 50 Babetta 207) or Sticker set Jawa TS 350 (Jawa 350 638 639)
Other offerings
JAWA stickers are part of our Accessories and other offers. In addition to stickers you can find in this varied offer:
If you're looking for accessories for a particular type of motorcycle, head to our Parts by type range.
Show more
Show less