Jawa 50 type 225 Babetta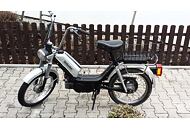 Are you the owner of a vintage motorcycle Jawa 50 type 225 Babetta and you need quality and reliable spare parts for your bike? Our e-shop is the best choice for you. JAWASHOP is one of the leaders in supplying spare parts for historical motorcycles of the Jawa brand.
Year 1972 - 1988
Wheel 19"
Engine 49cc
Spare parts offer Jawa 50 Babetta
In our spare parts offer for Jawa 50 type 225 babetta motorcycle you will find the following spare parts:
Engines and crankcases
Gearbox and clutch
Fuel system
Secondary chain drive
Bowden cables
Exhaust system
Frames and accessories
Steering and handlebars
Mudguards and covers
Wheels and brakes
Electrical equipment
Books
Other accessories
We offer all spare parts for all types of Jawa 50 babetta motorcycles in the highest quality, with the best reliability and long service life.
Selection of spare parts
When selecting spare parts for your Jawa 50 type 225 Babetta motorcycle, it is important to know first exactly what part you need. You will find all the information about all spare parts in the individual categories.
For more information, you can view our spare parts by type.
Show more
Show less