Handlebars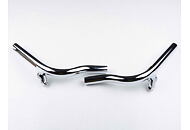 Enhance your riding experience and safety with our top-notch Jawa motorcycle handlebars. As a key motorcycle component, our high-quality handlebars cater to vintage JAWA, CEZETA, and other classic brands. These handlebars are part of our expansive Steering and Handlebars range.
Jawa handlebars spare parts
Motorcycle handlebars are an important part of every motorcycle. It is always important to have the best quality and most reliable handlebars for safe riding. Here at JAWASHOP we offer all spare parts in the highest quality and guarantee your satisfaction. In addition to the handlebars themselves, you can also find blinker switch and rear view mirrors for motorcycles in this category.
Other offer
In the Steering and handlebars offer we also offer other things besides handlebars, this offer includes:
If you are interested in other spare parts try visiting our Parts by category offer
Show more
Show less