Speedometer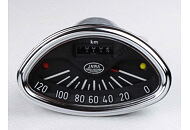 Every motorcycle deserves a precise speedometer. At JAWASHOP, we provide high-quality speedometers designed for vintage JAWA, CEZETA, and other classic motorcycle brands. These speedometers, essential for tracking speed and RPM, are an integral part of our comprehensive Steering and Handlebars range.
Jawa speedometer spare parts
Speedometer spare parts are very difficult to find for vintage motorcycles. Therefore, visit our offer where you can find these spare parts for speedometers. We offer spare parts that are high quality and reliable. In addition to the speedometers themselves, you will also find all the parts you need to install a speedometer on your motorcycle.
Other offer
In our Steering and handlebars offer you can find the following parts in addition to spare parts for speedometers:
Looking for other spare parts? Try our Parts by category offer, where you can find all possible spare parts for vintage motorcycles.
Show more
Show less