Levers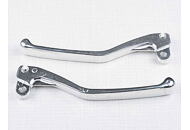 At JAWASHOP, we specialize in bringing you the finest motorcycle levers, specifically designed for your beloved JAWA and CEZETA motorcycles. Our collection is more than just spare parts; they are a tribute to the legacy of these iconic bikes, enhancing your ride with a perfect blend of historical charm and modern functionality.
Why choose motorcycle levers from us?
Historical connection: Every lever reflects the rich heritage of classic motorcycles.
Uncompromised quality: Made from premium materials, our levers promise longevity and performance.
Artisan craftsmanship: Each lever is a product of expert craftsmanship, echoing the legacy of iconic bikes.
Function meets style: Our levers combine practicality with elegance, elevating your motorcycle's overall appeal.
Our motorcycle levers offer
At JAWASHOP, we take pride in offering an extensive range of levers for your JAWA and CEZETA motorcycles, ensuring you find exactly what you need to enhance your riding experience. Here's a glimpse of what we offer:
Motorcycle brake levers
Motorcycle shift levers
Motorcycle tire levers
Motorcycle clutch and brake levers
Motorcycle bar end levers
Combine levers with other parts from our steering and handlebars offer.
Step into a timeless riding experience
Browse our extensive selection of motorcycle levers today. Embrace the blend of history and modern functionality, and let every journey be an homage to the golden era of motorcycling. Shop now and transform your ride into a moving legacy.
Show more
Show less