Steering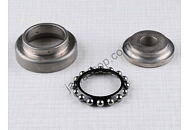 At JAWASHOP, we understand the essence of a historic motorcycle's heart-throbbing performance and timeless aesthetics. Our exceptional range of motorcycle steering accessories, including motorcycle steering bearings and ball bearings, is designed to elevate your JAWA and CEZETA motorcycles to new heights.
Why opt for motorcycle steering accessories?
Authenticity and precision: Our motorcycle steering bearings are crafted to meet original specifications, offering genuine essence and precision.
Historical integrity: We ensure our motorcycle steering accessories uphold the historical integrity of JAWA and CEZETA motorcycles, celebrating their legendary engineering.
Expert craftsmanship: With meticulous attention to detail, our motorcycle ball bearings and steering bearings are a tribute to the era of iconic rides.
Pair with other accessories from our steering and handlebars offer
Unparalleled quality of our steering accessories
Our motorcycle steering accessories are not mere replacement parts; they are integral components that reconnect you to the noble venture of classic riding. Here's why our steering accessories stand out:
Precision engineering: At the core of our accessories is precision engineering, ensuring performance that's true to your motorcycle's original design.
Restoration ready: Our motorcycle steering bearings and ball bearings are ready for restoration, promising a perfect fit that revives the spirit of your classic ride.
Reignite your motorcycle's legend:
Explore our extensive range of authentic motorcycle steering accessories and embark on a journey of restoration. Reignite the legend within your classic JAWA or CEZETA motorcycle with our precision-engineered steering bearings and ball bearings. The legacy beckons – it's time to answer the call with accessories that testify to a glorious past. Shop now and rediscover the timeless spirit of the ride with JAWASHOP!
Show more
Show less