Seats and covers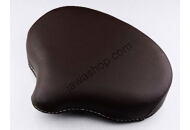 Revitalize your historic JAWA or CEZETA motorcycle with our exceptional "Seats and Covers" collection at JAWASHOP. Our meticulously curated selection ensures top-notch quality and extended lifespan, bestowing your timeless ride with ultimate comfort. JAWASHOP is the ultimate stop for historic motorcycle aficionados.
Discover our selection of Jawa seats and Jawa seat covers
Explore our diverse collection of Jawa motorcycle seats and covers. Seamlessly merging the allure of bygone eras with today's comfort standards, our JAWA and CEZETA seats transform each ride into a memorable journey. These seats promise superb support, reducing strain during extended trips, all while maintaining the classic motorcycle aesthetic. Our broad range includes:
At JAWASHOP, we strive to meet all our customers' needs with a comprehensive selection of accessories and spare parts.
Experience the unmatched benefits of our Jawa motorcycle seats and cover parts.
Authentic Comfort: Enjoy a perfect blend of nostalgic ambiance and modern comfort that our seats offer for your timeless ride.
Enduring Quality: Our seats and seat cover parts assure longevity, helping retain your vintage motorcycle's captivating charm.
Personalized Style: Our varied range lets your JAWA or CEZETA motorcycle reflect your distinctive style.
Simplified Installation: Skip complex and expensive installation processes. Our products include easy-to-follow instructions.
Safety First: Elevate your riding safety with our seats and covers, designed for superior grip in all conditions
Selection of Jawa bike covers and Seats
When it comes to selecting Jawa motorcycle seats and covers, understanding your motorcycle type and the size you need is crucial. It's essential to distinguish between JAWA and CEZETA models. You can find all the necessary information to make the right choice directly at JAWASHOP.
For other spare parts and accessories, explore our "Parts by Category" selection. Breathe new life into your historic motorcycle today with JAWASHOP – the ultimate destination for classic motorcycle enthusiasts.
Show more
Show less