Seat covers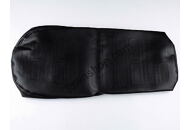 At JAWASHOP, our passion for enhancing the journey of every rider shines through in our specially designed motorcycle seat covers. Tailored to the unique contours of JAWA and CEZETA motorcycles, our collection not only preserves the essence of your motorcycle seat but elevates its comfort and style.
Why choose JAWASHOP for your motorcycle seat covers?
Historic precision: Each motorcycle seat cover is meticulously crafted, resonating with the distinctive aesthetics of your beloved motorcycle, ensuring a perfect fit that complements its classic allure.
Authentic restoration: Our covers don't just protect the motorcycle seat; they revitalize its appearance, making your vintage bike a spectacle of both history and modernity.
Guaranteed compatibility: With a diverse range of motorcycle seat covers, we assure a flawless match for your specific model, guaranteeing ease of installation and a transformative look.
Motorcycle seat covers - quality that embodies vintage spirit
Our motorcycle seat covers are a testament to superior craftsmanship and durability. We prioritize your riding experience, ensuring every motorcycle seat pad and cover meets the highest standards of quality.
Ignite the Legacy Today!
Discover the ideal motorcycle seat cover or pad in our extensive collection at JAWASHOP. Embrace the blend of tradition and innovation, and enhance your ride with unmatched elegance and comfort. Shop now and let your motorcycle's legacy continue in style and comfort!
Show more
Show less