Seats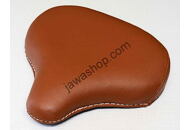 At JAWASHOP, we blend history with innovation, offering a premier range of motorcycle seats specifically designed for the iconic JAWA and CEZETA motorcycles. Our collection is a homage to these historic rides, ensuring that each journey is not just a trip but a reliving of a timeless legacy with unmatched comfort and style.
Why choose Seats from JAWASHOP?
Tailored for history: Our motorcycle seats are intricately designed to complement the classic aesthetics and unique needs of JAWA and CEZETA motorcycles, ensuring a perfect fit that respects the bike's heritage.
Comfort meets classic design: Choose from our range of motorcycle seat cushions and high-density foam seats that promise comfort without compromising the classic look of your vintage bike.
Passenger comfort prioritized: We understand the essence of shared journeys. Our motorcycle passenger seats are crafted to offer comfort and safety, enhancing the riding experience for both the pilot and the companion.
Find more in our seats and cover offer!
Quality that sets us apart
At JAWASHOP, we believe in upholding the highest standards of quality and craftsmanship, especially when it comes to enhancing the timeless JAWA and CEZETA motorcycles. Every seat in our collection is a product of meticulous design and superior craftsmanship. We choose only the finest materials, ensuring each seat not only meets but exceeds the expectations of durability and comfort.
Empower your vintage ride today!
Rediscover the joy of riding your historic JAWA or CEZETA with seats that offer a perfect blend of comfort, style, and nostalgia. Choose JAWASHOP to give your motorcycle the seat it deserves – one that respects its legacy and enhances its journey.
Show more
Show less