Seat accessories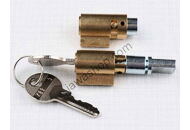 Step into the realm of vintage motorcycle enhancement with JAWASHOP's exclusive selection of motorcycle seat accessories for your JAWA and CEZETA motorcycles. Embrace the art of motorcycle seat repairs, custom motorcycle seat covering, and more, tailored to revitalize the essence and performance of your cherished rides.
Why choose motorcycle seat enhancements from us?
Exclusively tailored: Our motorcycle seat accessories are crafted to harmonize with the classic nature of JAWA and CEZETA motorcycles, ensuring not just a perfect fit but also elevating your bike's aesthetics and comfort.
Historical accuracy: With our focus on maintaining the authenticity of your vintage motorcycle, our services in motorcycle seat repairs and custom coverings adhere to the original design ethos, preserving the legacy of your bike.
Comprehensive range of accessories: Find everything you need to enhance and maintain your motorcycle seat. From seat holders that ensure stability, to rods of seat lock for added security, seat clips for easy adjustability, and seat springs for optimum support, our collection is extensive and top-quality.
Quality that embodies vintage spirit
JAWASHOP stands as a beacon of quality and excellence in the world of vintage motorcycle maintenance. Our motorcycle seat accessories are more than just products; they are a tribute to the heritage of JAWA and CEZETA motorcycles.
Durability and comfort: Experience the blend of robust construction and comfort with our motorcycle seat offerings, promising longevity and a pleasurable ride every time.
Expertise in motorcycle seat repairs: Trust in our skilled craftsmanship for all your motorcycle seat repair needs, ensuring your seat remains in prime condition for your journeys ahead.
Take Action: Revitalize Your Classic Motorcycle
Reignite the historic charm and functionality of your JAWA or CEZETA motorcycle. Explore our range of motorcycle seat services, invest in the longevity and beauty of your ride, and continue the narrative of your vintage motorcycle with pride. Your journey with a piece of history starts here!
Show more
Show less