Rear mudguard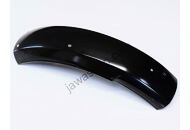 Discover premium-quality JAWA rear mudguards, a crucial component to ensure the longevity and performance of your historical motorcycles. Our offer includes durable and reliable rear mudguards specifically designed for JAWA, CEZETA, and other classic motorcycles. These mudguards form an integral part of our comprehensive range of Mudguards and Covers.
Rear mudguard parts
Rear mudguards are located behind the rear wheel and are usually made of solid plastic. They are designed to efficiently shed dirt that is generated when riding. Good quality rear mudguards minimize damage and blockage to the rear wheel.
Here at JAWASHOP you will find rear mudguards that are completely reliable and will make your riding experience the best it can be.
Other offer
In addition to rear mudguards, you can also find in our range of mudguards and covers:
If you are looking for another specific spare part, try our parts by category offer
Show more
Show less