Mudguards and Covers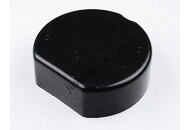 Explore our wide range of mudguards and covers here at JAWASHOP, designed to meet the needs of every JAWA and CEZETA motorcycle enthusiast. Each product is a testament to our commitment to quality, durability and design. Don't settle for ordinary. Enhance your ride and make an impression on the road with our range of bike mudguards and covers
Jawa Mudguards and jawa covers spare parts
Every product in this category is built to withstand the toughest conditions. They are made from the highest quality materials and offer unrivaled durability and strength. We offer replacement parts for these components:
Front mudguards: An essential part of every motorcyclist's kit, our front mudguards provide the ultimate protection. They protect your motorcycle from dirt, water and debris.
Rear mudguards: Our rear mudguards ensure that you and your ride stay clean and protected. They are expertly designed and effectively repel dirt from the road ejected by the rear wheel, protecting the integral parts of your bike and keeping it performing at peak performance.
Covers and cases: A motorcycle's longevity is paramount, and our covers and cases are the perfect companions for this. They shield your bike from the elements and potential damages when it's not in use, ensuring it remains in prime condition for your next adventure.
Benefits of mudguards and covers
Enhanced protection: Jawa Mudguards and covers serve as the first line of protection for your motorcycle from the elements. They protect your JAWA and CEZETA motorcycles from road dirt, water, dust and mud, preventing possible damage to important parts of your machines.
More comfort: For riders, front mudguards and rear mudguards are essential. They prevent water from splashing back onto your tyres and keep you clean and dry even in the harshest weather conditions. This makes your ride more comfortable, more enjoyable and, most importantly, safer.
Selection of spare parts
Understanding the specific needs of your motorcycle is crucial to selecting the right spare parts. Different types of motorcycles will require different parts, even when it comes to mudguards and covers. On JAWASHOP you will find detailed descriptions of all spare parts for both JAWA and CEZETA motorcycles.
In case you are looking for other spare parts, head to our Parts by Category.
If you are looking for parts for a specific motorcycle, head to our Parts by Type.
Show more
Show less