Front mudguard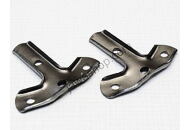 Step into the realm of vintage motorcycle care with our exclusive selection of front mudguards, designed specifically for your cherished JAWA and CEZETA bikes. These pivotal accessories, such as the front fork mudguard and motorcycle front mudguard plate holder, are crucial in protecting your classic ride from road wear and environmental elements, ensuring a pristine and smooth journey.
Why choose our front mudguards for your vintage ride?
Custom-Fit design: Our front mudguards are intricately designed to fit the unique contours of JAWA and CEZETA motorcycles, ensuring a perfect match for your vintage beauty.
Vintage authenticity: Maintain the classic allure of your motorcycle with our mudguards that echo the original design ethos of JAWA and CEZETA.
Front mudguards - commitment to quality
At JAWASHOP, we don't just sell parts; we uphold the legacy of vintage motorcycles. Our front mudguards, including the specialized motorcycle front mudguard plate holder, are a testament to our dedication to quality and heritage.
Resilient construction: Built to last, our front mudguards offer enduring protection, preserving your motorcycle for the many rides to come.
Climate-Resilient features: Crafted to withstand various weather conditions, our mudguards help keep your classic motorcycle in top condition.
Elevate your JAWA or CEZETA with authentic mudguard
Explore our range of front mudguards for JAWA and CEZETA motorcycles. Invest in quality and authenticity, and rekindle the historic spirit of your classic ride. Your vintage motorcycle deserves the best – equip it with the protection and style it needs.
Show more
Show less