Frame and accessories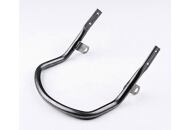 Welcome to the vibrant world of JAWASHOP, your go-to platform for rejuvenating JAWA and CEZETA motorcycles with our superior quality frame spare parts and accessories. These products are uniquely tailored for your cherished JAWA and CEZETA motorcycles, marrying technical excellence with timeless aesthetics for standout performance on the road.
Immerse in Our Assortment of Frames and Jawa Accessories
At JAWASHOP, we cherish the trust that every JAWA and CEZETA motorcycle owner places in their ride's endurance. Our mission is to reinforce this faith with our rigorously tested frame spare parts and Jawa accessories, including:
Subjected to stringent quality checks, our products consistently meet and exceed the high-performance standards these classic motorcycles deserve.
Reap the Extraordinary Advantages of Our Frames and Jawa Accessories
Performance Enhancement: Propel your motorcycle to new speed and stability benchmarks with our aerodynamically optimized, lightweight frames.
Superior Durability: Our robust accessories resist extreme conditions, ensuring lasting performance and longevity.
Guidance in Selecting the Ideal Spare Parts
Choosing suitable spare parts for your motorcycle becomes effortless with JAWASHOP's comprehensive range. We offer everything necessary to select the perfect part for your JAWA or CEZETA. For more specific product information, explore our 'Parts by Category' section.
For spare parts curated by specific motorcycle types, please visit our 'Parts by Type' category. Dive into the enriching world of JAWASHOP today, and experience the blend of heritage, quality, and performance in every ride.
Show more
Show less