Footrests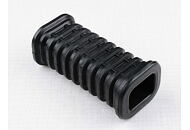 Embrace the timeless allure of historical motorcycles by ensuring a comfortable and secure ride with our meticulously crafted footrests. Specifically designed for iconic JAWA and CEZETA motorcycles, our footrests are more than just a resting place for your feet; they are a bridge to the glorious past, promising a blend of comfort and control as you cruise through the streets with these accessories.
Why choose JAWASHOP for footrests?
Authentic design: Our motorcycle footrests are crafted following the original design specifications of JAWA and CEZETA motorcycles. They seamlessly blend with the classic aesthetics of your bike, preserving the vintage charm while offering modern-day comfort and safety.
Premium quality: At JAWASHOP, quality is paramount. Our motorcycle footrests are engineered from high-grade materials, ensuring durability and a lasting finish, allowing you to traverse the roads with confidence, knowing your classic ride maintains its pristine condition.
Expert craftsmanship: With a focus on detail, our skilled craftsmen ensure that each motorcycle footrest bar reflects the superior craftsmanship synonymous with JAWA and CEZETA motorcycles, enhancing not only the aesthetic appeal but also the value of your
Step into timeless comfort and style
Dive into our extensive collection of premium motorcycle footrests and footrest bars, designed with a perfect blend of authenticity and modern-day functionality. Each piece is a testament to our commitment to preserving the rich heritage of classic motorcycling. Shop now, step into a legacy of comfort, control, and classic allure, and let every ride be a nostalgic journey down memory lane.
Show more
Show less