Jawa 90 Cross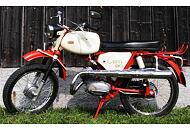 If you're searching for premium spare parts for your Jawa 90 Cross motorcycle, you've come to the right place. The Jawa 90 Cross is a classic motorcycle with a deep-rooted history, and we're committed to helping you preserve its authenticity and performance. At JAWASHOP, we specialize exclusively in providing top-quality spare parts for vintage JAWA and CEZETA motorcycles. We're confident that you'll find exactly what you need for your Jawa 90 Cross right here.
Technical specifications
The 1968 Jawa 90 Cross is a unique model that belongs to the Jawa 90 cc range. It boasts a single-cylinder two-stroke engine that produces up to 9.5 horsepower at a revving speed of 6,500 rpm. With this powertrain, the Jawa 90 Cross is capable of reaching a top speed of 95 km/h. The motorcycle has a weight of 90 kg and a fuel tank capacity of 10.50 liters.
Jawa 90 Cross - Spare parts offer
Our wide offer for Jawa 90 Cross motorcycles includes:
Engine and crankcase
Gearbox and clutch
Fuel system
Secondary chain drive
Bowden cables
Exhaust system
Frame and accessories
Steering and handlebars
Mudguards and covers
Seats and covers
Wheels and brakes
Electrical equipment
Books
Other accessories
Our spare parts for the Jawa 90 Cross are carefully selected and tested to meet or exceed original specifications. This ensures that every part you purchase from us at JAWASHOP will have a long life and fit your motorcycle perfectly.
Selection of spare spare parts
When selecting spare parts for JAWA motorcycles, it is always important to know what spare part you are looking for and for what type of motorcycle.Whether it is large spare parts such as brakes or engines or just small parts such as spark plugs and bearings the selection of spare parts should never be underestimated.
All the information on individual spare parts can be found in the Parts by Category offer.
Show more
Show less