CZ 175 type 501 scooter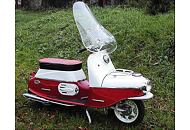 Do you own a Jawa Cezeta 175 and are you looking for quality spare parts? Our e-shop is the right place for you. Here you will find all spare parts for the historic motorcycle CZ 175 Type 501 Scooter and also for other Cezeta motorcycles.
Year 1957 - 1960
Wheel 12"
Engine 175cc
Dynamo-starter 12V
Technical parameters
The Jawa Cezeta 175 is a motorcycle produced between 1957-1960. It has a two-stroke single cylinder engine with a capacity of 172cc. It achieves up to 8 hp and has a tank capacity of 12l.
Offer of spare parts
In our offer of spare parts for Jawa Cezeta 175 motorcycles you can find:
Engine and crankcase
Gearbox and clutch
Fuel system
Secondary chain drive
Bowden cables
Exhaust system
Frame and accessories
Steering and handlebars
Mudguards and covers
Seats and covers
Wheels and brakes
Electrical equipment
Books
Other accessories
Selection of spare parts
When choosing spare parts for your CZ 175 Type 501 Scooter, it is important to know exactly what part you need. All the information about each part can be found in the individual categories.
Show more
Show less