Jawa CZ 125 - 175 Kyvacka 355 - 356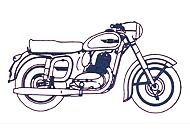 Are you the owner of a vintage Jawa CZ Kyvacka motorcycle and are you looking for quality spare parts? We offer spare parts for many variants of this brand.
You will find here on our JAWASHOP spare parts for:
Spare parts offer
We offer spare parts of the highest quality and high reliability. Our offer of spare parts for motorcycles Jawa CZ 125-175 Kyvacka is:
Engine and crankcase
Transmission and clutch
Fuel system
Secondary chain drive
Bowden cables
Exhaust system
Frame and accessories
Steering and handlebars
Mudguards and covers
Seats and covers
Wheels and brakes
Electrical equipment
Books
Other accessories
Selection of spare parts
When selecting spare parts for Jawa CZ 127-175 Kyvacka motorcycles, it is important to know exactly what part you need. All spare parts are individually described in the individual categories.
Show more
Show less