Jawa 90 Roadster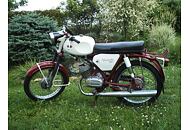 Looking for spare parts for your Jawa Roadster 90? Look no further than JAWASHOP! Discover top-quality parts for Jawa 90 cc motorcycles and other JAWA and CEZETA bike models. Find everything you need to keep your historical jewel running smoothly at JAWASHOP.
Jawa Roadster 90 - Technical parameters
The Jawa 90 Roadster is a classic machine with a history dating back to the 1960s. This model is characterized by its low weight, performance and excellent handling. Specifications such as a two-stroke single-cylinder engine with a displacement of 89.5 cc, a power of 8.5 hp and a top speed of 85 km/h make the Jawa 90 Roadster a popular model among classic motorcycle enthusiasts.
Jawa 90 Roadster - Spare parts offer
At JAWASHOP we offer a wide range of high quality, tested and reliable spare parts for the Jawa 90 Roadster. In this offer you will find:
Engine and crankcase
Gearbox and clutch
Fuel system
Secondary chain drive
Bowden cables
Exhaust system
Frame and accessories
Steering and handlebars
Mudguards and covers
Seats and covers
Wheels and brakes
Electrical equipment
Books
Other accessories
Every part we sell is carefully selected and tested to meet the highest quality standards and meet all our customers' expectations.
Selection of spare parts
Selecting the right spare parts is crucial to the longevity and performance of your Jawa 90 Roadster. It is extremely important to know what spare part you are selecting (if you need a spare part for the gearbox, exhaust system, engine etc...) and the specific information such as size and shape of the spare part you need.
Information on individual spare parts and their compatibility with different motorcycle models can be found in our Parts by category offer.
If you are also interested in spare parts for other JAWA or CEZETA models, we recommend you to visit our Parts by type offer.
Show more
Show less