Exhaust system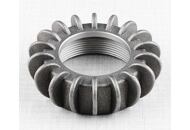 Looking for reliable spare parts for your bike exhaust system? Here at the JAWASHOP you will find exactly what you need. We offer all possible spare parts for Jawa, Cezeta and other motorcycles. In this category you will find the best motorcycle exhaust system spare parts.
Motorcycle exhaust system spare parts
The exhaust system on motorcycles is an important component that affects the performance, sound and emissions of the motorcycle. It is therefore important to have an exhaust system of the best possible quality. A reliable and high quality exhaust system will improve your riding experience exponentially.
When choosing exhaust system parts, it is essential to know exactly what part you need and for what type of motorcycle. Everything you need to select the right part can be found in our e-shop.
Spare parts offer for exhaust system
Our range of spare parts for exhaust systems includes:
All spare parts in our offer are high quality and reliable. The spare parts on our e-shop are a clear guarantee of satisfaction.
If you are looking for other spare parts, you will find them in our Parts by Category offer.
For spare parts for a specific type of motorcycle, visit our Parts by Type offer
Show more
Show less