Jawa 350 type 638 - 639 - 640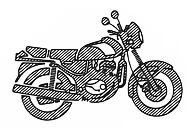 If you're the proud owner of the legendary Jawa 350 motorcycle and in need of spare parts, you're in the right place. At JAWASHOP, we've tailored an exclusive offer for you. Our expertise lies in providing premium spare parts for vintage motorcycles, specifically focusing on JAWA and CEZETA brands. Rest assured, you'll find the perfect fit for your Jawa 350 right here.
Jawa 350 Spare parts offer
At JAWASHOP we offer a wide range of spare parts for the vintage Jawa 350. We offer spare parts for the following types of Jawa 350:
All of our spare parts are manufactured to the highest quality and reliability, so you can be sure that your motorcycle will perform like new.
Selection of spare parts
When choosing spare parts, it is important to know what type of motorcycle you are looking for spare parts for and exactly what spare part you need. We offer a wide range of parts, from small components like electric cables and nuts to larger components like wheels and engines.
You can find all the information about each spare part in the Parts by Category offer.
For a selection of spare parts for other types of JAWA and CEZETA motorcycles, visit the Parts by Type category.
Show more
Show less