Jawa 350 type 623 - 633 - 634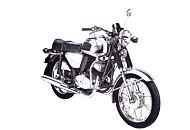 Explore an extensive array of top-quality spare parts for your Jawa 350 at our JAWASHOP. We specialize in providing parts specifically designed for this iconic model, as well as other JAWA and CEZETA motorcycles. From specific components to general maintenance items, our shop is your ultimate destination for all your Jawa 350 needs.
Spare parts offer
Engine and crankcase
Transmission and clutch
Fuel system
Secondary chain drive
Bowden cables
Exhaust system
Frame and accessories
Steering and handlebars
Mudguards and covers
Seats and covers
Wheels and brakes
Electrical equipment
Books
Other accessories
All spare parts for Jawa 350 623-634 type motorcycles are offered in the highest quality. Our parts are long lasting and practical.
Selection of spare parts
When choosing spare parts for Jawa 350 623-634 type motorcycles, it is important to know what kind of part to choose. You will find all the information about all the available spare parts in the individual part categories.
For more information on individual parts, please see the offer by category.
Show more
Show less