Jawa 250 - 350 Perak 11 - 18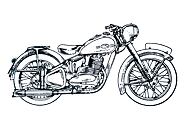 Do you own a vintage Jawa 250-350 Perak motorcycle and are you looking for quality spare parts for it? You can find quality spare parts for all types of Jawa motorcycles in our e-shop. JAWASHOP is one of the leading suppliers of spare parts for historical motorcycles, not only for Jawa motorcycles.
Jawa 250-350 Perak - Technical parameters
The Jawa 250-350 Perak is a historic motorcycle that can stand up to today's quality. The Jawa Perak has a two-stroke single-cylinder petrol engine with a capacity of 248.5 cm³. This engine delivers up to 6.6KW of power. The Jawa Perak motorcycle reaches a top speed of up to 100 km/h and has a tank capacity of 13L.
Spare parts offer
In our spare parts offer for the Jawa 250-350 Perak motorcycle you will find the following spare parts:
Engines and crankcases
Gearbox and clutch
Fuel system
Secondary chain drive
Bowden cables
Exhaust system
Frames and accessories
Steering and handlebars
Mudguards and covers
Wheels and brakes
Electrical equipment
Books
Other accessories
All spare parts for the historical jewel Jawa 250-350 Perak are offered in the highest quality. At JAWASHOP we offer all spare parts with great reliability and with 100% satisfaction.

Selection of spare parts for Jawa Perak
When choosing spare parts for your Jawa 250-350 Perak motorcycle, it is important to know exactly what spare part you are looking for and for which variant. All information about each spare part can be found in our by Parts offer
In our offer you can find spare parts for two variants of the motorcycle Jawa Perak:
Show more
Show less